Analyzing & monitoring
Spend less time in monitoring and analyzing data and optimize your training methods
Sync with the most popular wearable devices
Sync your ScienceTraining calendar with your Garmin, Polar, Suunto, Coros or Wahoo calendar and seamlessly use any sports device you have. Send structured workouts directly to your athlete's device. Save time and remain motivated, even when offline!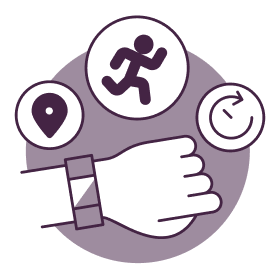 Multisport activities
Receive multisport activities from your devices, for better activity classification, improved bookkeeping and more accurate performance graphs (per sport) and overall fitness, form, fatigue graphs.

Compatible with Strava
Connect your ScienceTraining account with your Strava calendar and synchronize all workouts available from any device you're using with Strava.
Expected Fitness-Form-Fatigue (FFF) graph
Visualize a prediction curve for performance, identify possible improvements and make readjustments to help athletes reach their goals effectively, with balanced stimulus and training load.
Performance Graphs
Fitness, form, fatigue and readiness graphs, on various timeframes, for optimal monitoring. Avoid excessive fatigue or undertraining syndromes.
Multiple .FIT file importer
Export activity data, download and unzip it, and just use the import functionality in ScienceTraining to automatically bring it in, in minutes. No more error-prone manual work required!
Color coding for workout events
Color-coded training events, per sport, Including color-coded auto-comparison for "planned" vs "completed" workouts.
Analyze your data
Analyze training data and decide on the next round of readjustments and recommendations for your athletes. Establish progress by parameter, such as heart rate, pace or ascent, all in one graph!
Analyzing & monitoring
was last modified:
February 17th, 2023
by