Training
Design, create and re-adjust your training plans, at a fraction of the time
Manually Add an Activity
No need to worry when automatic workout tracking isn't an option. Now, you can manually input your workout details directly into your calendar, and avoid the hassle of uploading FIT files every time.
Mark Workouts as Done
Track and update your training progress accurately and effectively, while the system automatically calculates stress levels. Enable your coach to make informed adjustments to help you achieve your goals.
Ad Hoc Athlete Availability
Set your availability as needed, and let ScienceTraining automatically notify your coach for you. Take charge of your schedule and discover the perfect balance between training and life commitments.
Easy-to-use workout builder
Save time in training program design, with a customizable workout builder. Select your training & measurement methods, and a host of other options.
Workout library
Create and save workouts in your library; re-use them whenever you need them, on any training plan, for every athlete. Easy as pie!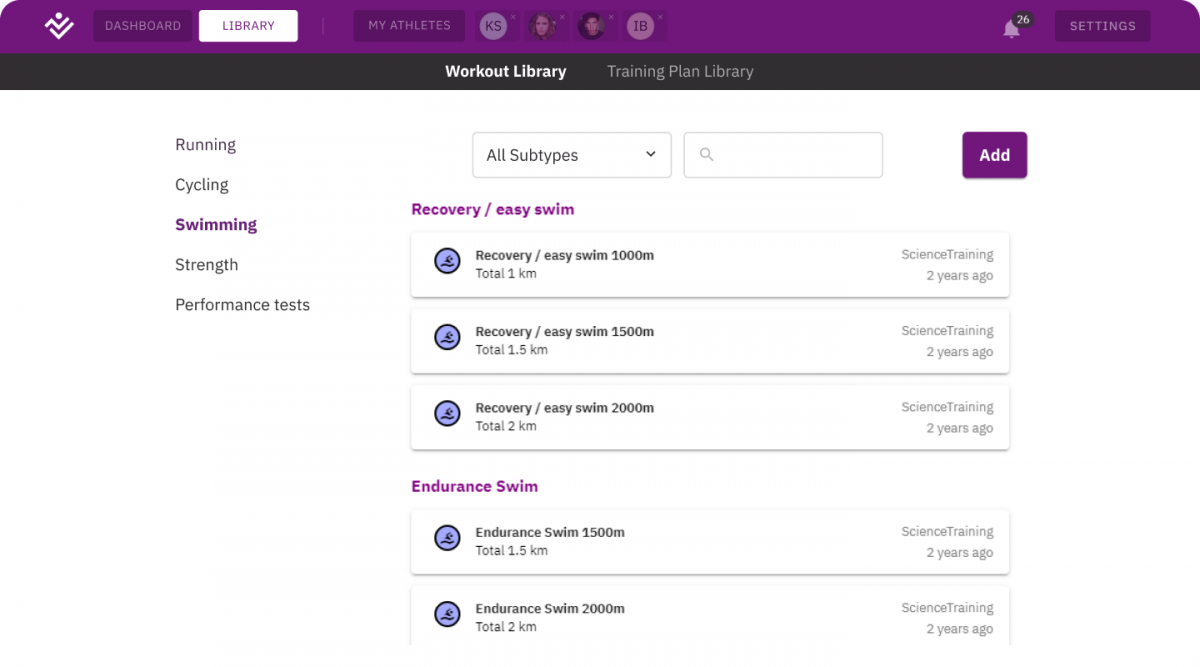 Prebuilt workout library
Use scientifically sound, prebuilt workouts and get started training your athletes today, hassle-free, in minutes. No experience required!
Compare, copy and paste workouts
Use the brand new Dual Calendar view to compare, copy and paste existing workouts from one athlete to another; all parameters will be automatically updated, according to their specific training zones!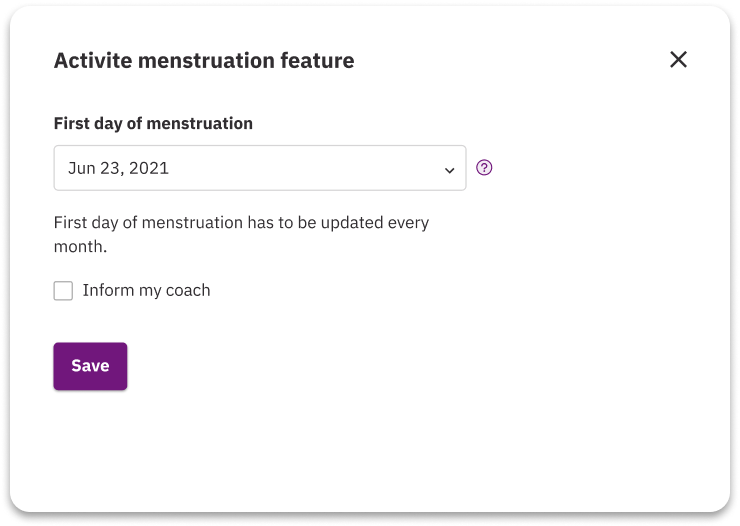 Train by menstrual cycle
Female athletes can now select the first day of their menstrual cycle, optionally notifying their coach about it, to optimize their training schedule. The entire cycle will then be color-coded on their calendar, as per hormonal changes.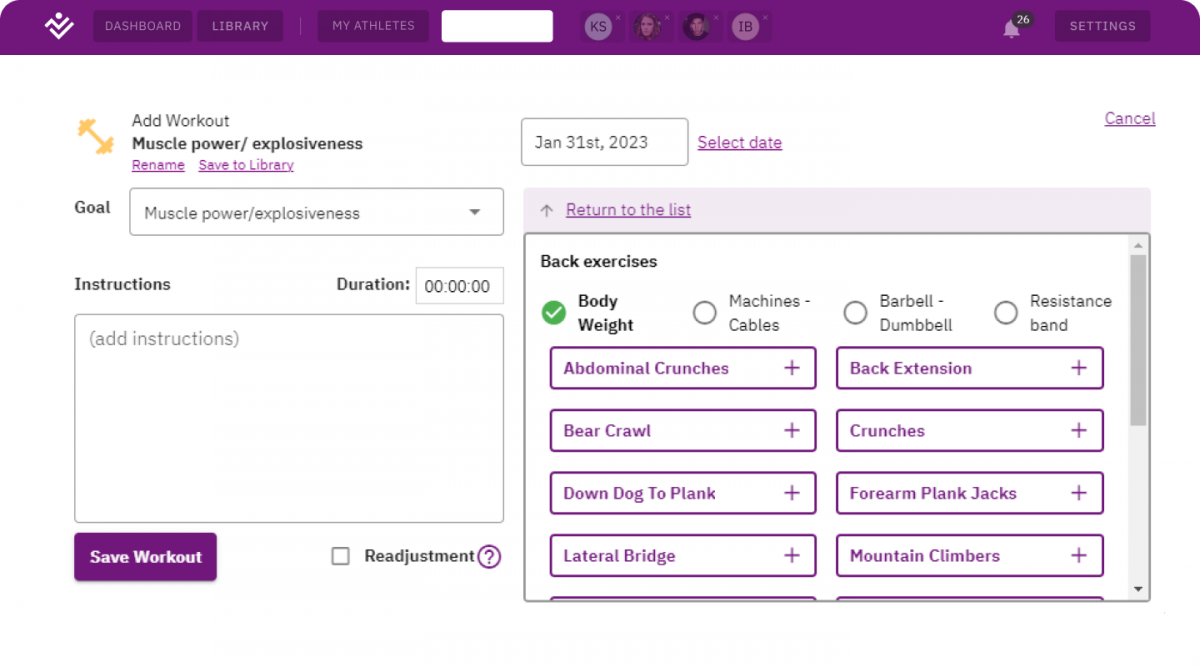 Strength library
Sort through your workout library and filter by strength events. Instantly find what you need and set up sets, repetitions, intensity and rest periods.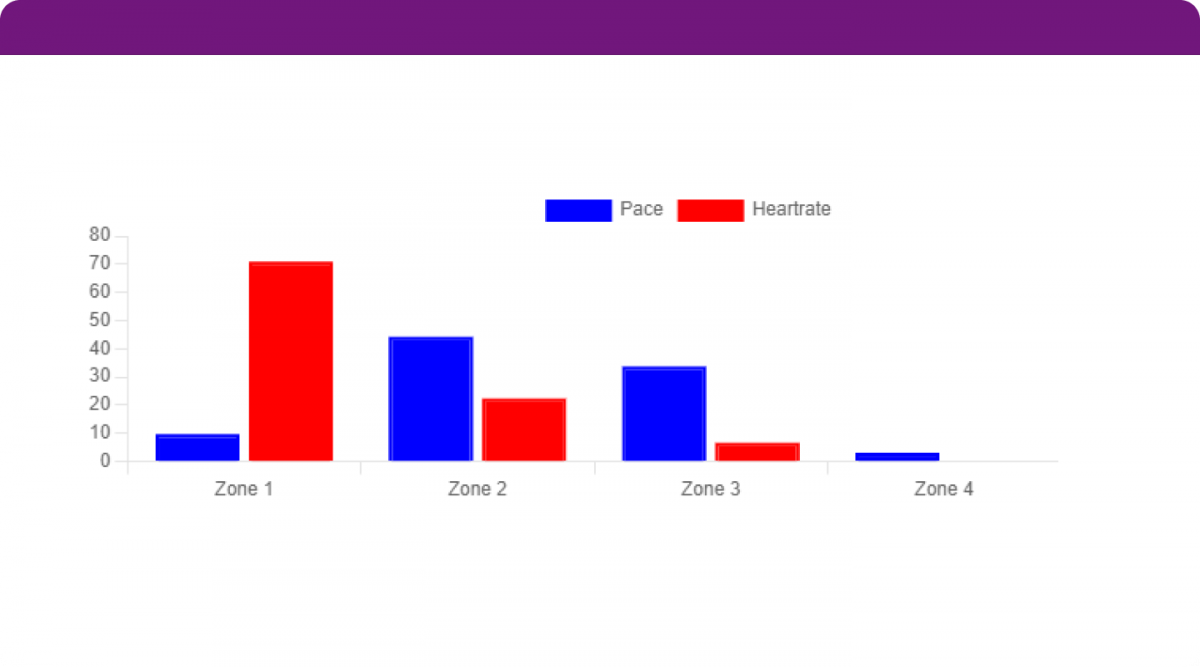 Intensity Distribution
Easy tools to determine the weekly distribution of intensity and plan workouts accordingly, with ease.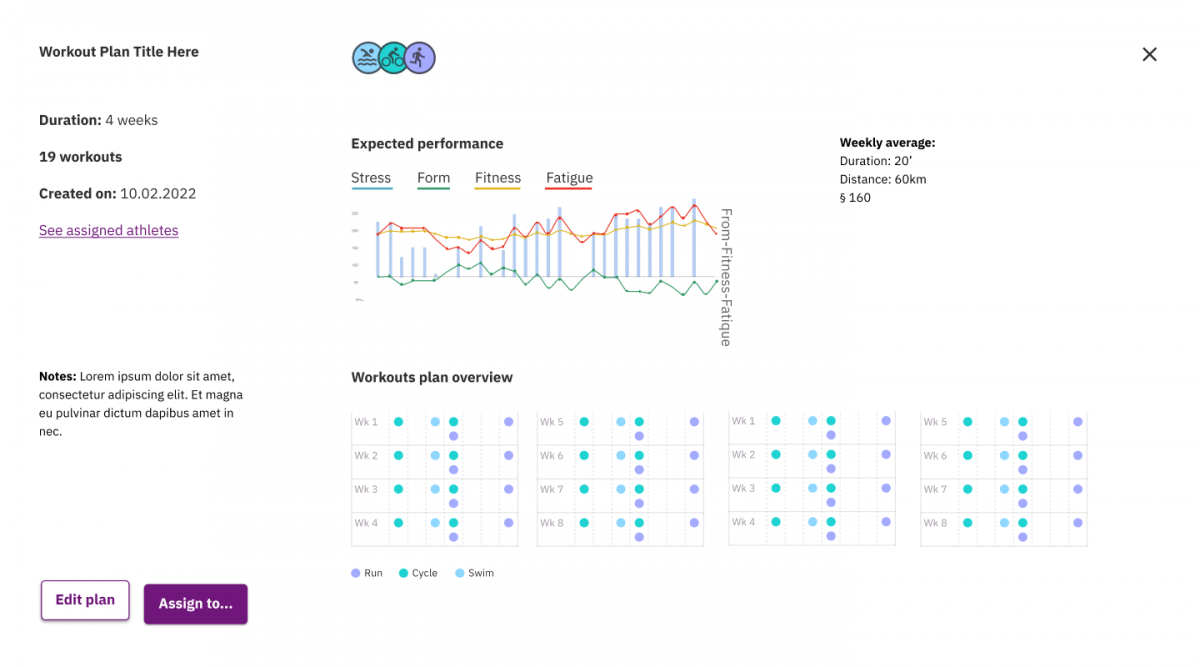 Training plan library
Create new or edit and save new and existing training plans; implement a stored plan on one or multiple athletes, at a fraction of the time you used to need!
Auto-updates
Each training plan will be automatically updated if a new threshold is detected or if training zones are changed, for each athlete. The athlete will always have the best training program at hand!
Auto-detection of key indicators
Including lactate threshold for running, functional threshold power for cycling, T-Pace for swimming; and automatically tracked threshold history, to monitor everyone's progress.
Test events
Remotely evaluate every athlete's physical condition before you design their training plan. Repeat after 8-12 weeks, to readjust their training zones and workout structure efficiently.
Dynamic planning
Design several weeks worth of workouts and gradually release them to athletes' calendars in small batches. Retain control over any last minute change or readjustment .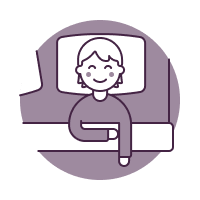 Rest day events
Use rest day events to coherently prompt athletes to include the necessary rest days in their training schedule. Improve their performance and prevent injuries, even more effectively.
Backfill data from popular wearable devices
Take advantage of existing data on past training sessions to evaluate a new athlete's fitness levels and design the best possible training plan for them, without the calculations.
Training
was last modified:
July 19th, 2023
by