Design better training plans for your athletes, monitor progress and analyze data with ease, at a fraction of the time.
Spend less time designing endurance training plans, monitoring and analyzing data for every athlete — all in one place
Maximize your capacity and efficiency in coaching runners, swimmers, cyclists or triathletes
Run evaluation tests for each athlete and start training them from scratch
Use time-saving automated tools to re-adjust your training plans
Become an efficient endurance coach in Running, Swimming, Cycling and Triathlon, in no time
Maximize your endurance coaching efficiency with ScienceTraining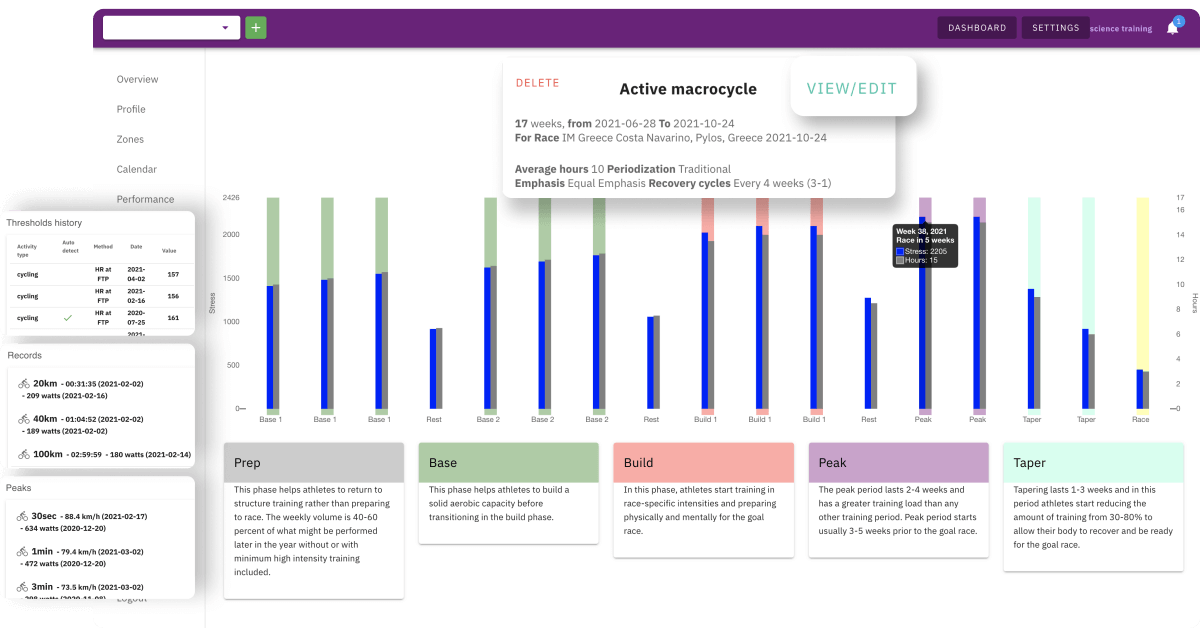 Minimize the time spent in managing tasks, with notifications and reminders
Retain control over executed vs scheduled training
Use automated tools to design the macrocycle, mesocycle and microcycle for each training plan
Get scientific guidance to tweak and customize the training plan for each athlete
Re-plan easily if everything doesn't go according to plan
Use scientifically sound, ready-made workouts for running, swimming and cycling and help your athletes shine in their sport
What's in it for you?
Business Value
Remain in control of your endurance training methods
Maximum potential capacity
Minimum time allotted per athlete
Optimal management in communication, training and payments
Keep in touch with your peers
Improved customer service
Remote athlete fitness levels evaluation
Remote endurance training
Prebuilt workout library, to get you started from day one
Productivity
Tools that make up your virtual assistant in coaching
Evaluation of thresholds, testing and zones updating, automatically
Recommended training schemes
Integration and synchronization with popular platforms like Garmin, Polar (Suunto, Strava coming up).
7 days worth of workouts synced to the athlete's Garmin watch
Automated, categorized notifications about everything you need
Specialized content to help you improve your endurance coaching
Automated, hassle free payments and subscription renewals and upgrades
Mute inactive athletes to reduce communication overhead. Unmute them with a single click
Going pro?
Start with a free registration
More than 45 athletes?
Train more endurance athletes, more efficiently, in less time
was last modified:
September 20th, 2021
by